Resources and Information for Dealing with Covid 19


NAVIGATING CORONAVIRUS - A RESOURCE GUIDE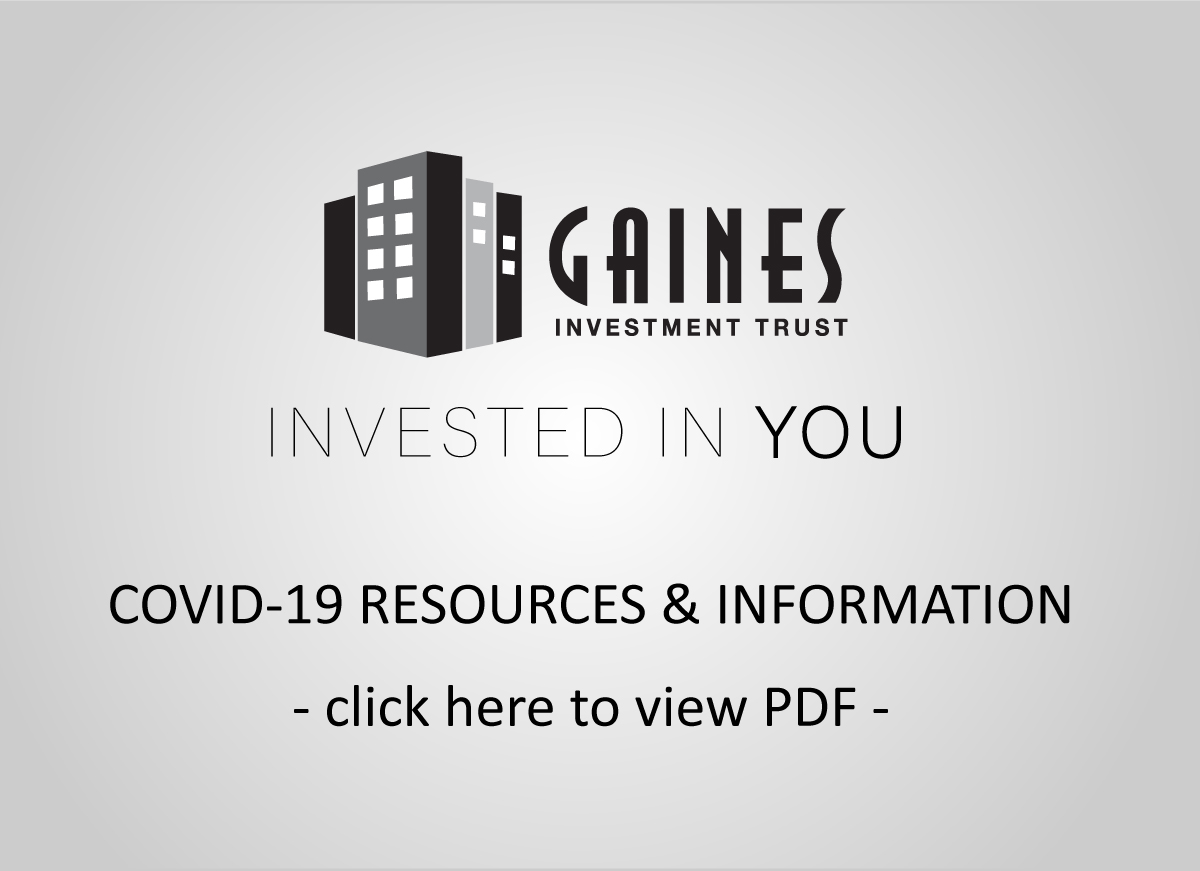 At Gaines Investment Trust, we realize that COVID-19 has made a sizeable impact on your life. We put together this resource guide to help you navigate the various contacts & services that may be beneficial at this time.

A great place to start is by calling your local 211 to speak with a community resource specialist in your area who will help you find services and resources that are available to you: OR CLICK HERE
You'll find help with:

? Supplemental food and nutrition programs
? Utilities assistance
? Emergency info and disaster relief
? Employment and education opportunities
? Services for veterans
? Health care, vaccination and health epidemic information


LOCAL RESOURCES

The Southern Nevada Health District (SNHD) has extended hours for its information line: (702) 759-4636, for people to ask questions about COVID-19. The hours for the line are Monday through Friday, 7 a.m. Through 7 p.m. The state of Nevada also has a new COVID-19 website, https://nvhealthresponse.nv.gov/faqs/
City of Las Vegas Call Center: City of Las Vegas has a call center for those with questions about city services during the coronavirus pandemic: Call 702-229-CARE (2273) from 7 a.m. To 5:30 p.m. Monday through Thursday to speak to someone. The line will give callers automated options from Friday to Sunday. The call center is available Mondays through Thursdays from 7 a.m. To 5:30 p.m. Callers will be directed to automated options on weekends. For the latest COVID-19 information, the City asks you to visit: lasvegasnevada.gov/coronavirus .
THE NEVADA DEPT OF EMPLOYMENT, TRAINING AND REHABILITATION
The Nevada Department of Employment, Training and Rehabilitation (DETR) is receiving an influx of calls. They are asking Nevadans who are unemployed to fill out this form if you are having issues logging in to your Claimant Self Service Unemployment account AND would like to have your account reset: http://gov.nv.gov/Forms/Unemployment/ DETR is encouraging claimants to use the internet to file their unemployment insurance (UI) claims. The state's Unemployment Insurance Claim Filing System (uinv) provides information for both claimants and employers.
To file:
DETR has also published an instructional Unemployment Insurance (UI) video to youtube, which guides filers through how to set up their online account. The UI Claims Call Centers is now open Monday through Friday from 8 a.m. To 8 p.m. For those that need to file via phone because they are unable to file online. To file a claim via telephone in southern Nevada, claimants must call: (702) 486-0350.
SILVER STATE HEALTH EXCHANGE
Silver State Health Exchange is holding a special period of open enrollment for Nevadans who have yet to sign up for health insurance. You can sign up from March 17 – April 15. Use this link. Individuals seeking a special enrollment are encouraged to contact the Customer Assistance Call Center between 9 a.m. To 5 p.m. Monday-Friday at 1-800-547-2927; TTY: 711. The Call Center will extend its hours on Saturday's and Sunday's (except for Easter Sunday) from March 21 through April 15 from 10 a.m. To 2 p.m. PST.

COUNSELING SERVICES THROUGH UCF

United Citizens Foundation (UCF), is offering therapy sessions at no out of pocket cost to Nevadans during this global coronavirus pandemic. The nonprofit specializes in healthy emotional and behavioral skills for children and their families with onsite mental and behavioral wellness centers in the community.

The services are available through Telehealth or at the nonprofit's two community locations:
4485 South Buffalo Dr., Las Vegas, NV 89147 and
2048 N. Las Vegas Blvd., North Las Vegas, NV 89030.
Please call the hotline at (702) 888-6300 for scheduling.
LEGAL AID CENTER OF SOUTHERN NEVADA
The Legal Aid Center of Southern Nevada created a toolkit in response to the coronavirus pandemic. The toolkit is designed to help people grappling with foreclosures, evictions, debt collection, bankruptcy, payday and title loan issues, family disputes and other legal problems. The toolkit features a variety of links to multiple resources from banks to utilities to food assistance.
For more information, call 702-386-1070 or email [email protected].

FREE FOOD SITES:
Numerous sites around the Las Vegas valley are distributing food. Clark County school sites are listed under School Meal Options. While Boys and Girls Clubs of Southern Nevada are closed, they are providing meals in partnership with Three Square from 11 a.m. To 1 p.m. At the following Club locations:

Andre Agassi Club

Boulder highway Club

Mary & Sam Boyd Club

Desert Pines Club

Downtown Club

Ralph & Betty Engelstad Club

John D. "Jackie Gaughan Club

Natalie Gulbis Club

James Club

John C. Kish Club

Lied Memorial Club

Complete Care Services, dinner Monday through Wednesday, 4:30 to 4:45 p.m.

Alternative Peer Group, dinner Monday through Friday, 3:30 to 5:30 p.m.

Cordero Pine, lunch Monday, Tuesday, Thursday, 11:45 a.m. To 1 p.m.

Five89 Apartments, lunch Saturday, 12:15 – 1:15 p.m.

Neighborhood Rec, dinner Monday through Friday 5:30 – 6:30 p.m.

S.A.M.O.A. Inc, lunch Monday through Thursday 12 to 12:30 p.m.

Skyview Pines Apartments, dinner Monday through Friday, 3:45 to 4:45 p.m.

Skyline Parc Apartments, lunch saturday 1:30 to 2:30 p.m.

Sonoma Hills Apartments, lunch Saturday, 11 a.m. To 12 p.m.

Stupak Community Center, dinner Monday through Friday, 4 to 6 p.m.

Sunrise Community Services, dinner Monday through Friday 4 to 6 p.m.

The Embracing Project, lunch Monday, Wednesday, Thursday, 1 to 3 p.m.

YMCA Durango, dinner Monday through Friday, 4 to 6 p.m.

YMCA Heinrich, dinner Monday through Friday, 4 to 6 p.m.

YMCA Skyview, dinner Monday through Friday, 4 to 6 p.m.

Three Square Food Bank Mobile Starts 03/17/2020-03/20/2020:

Walnut Rec Center M-F, Lunch 11:00 am-11:30 am

Bob Price Rec Center M-F, Lunch 11:45 am-12:15 pm

Hollywood Rec Center M-F, Lunch 12:30 pm-1:00 pm

Parkdale Rec Center M-F, Lunch 1:15 pm-1:45 pm

Cambridge Rec Center M-F, Lunch 2:00 pm-2:30 pm

Pearson Community Center M-F, Lunch 2:45 pm-3:15 pm

Clark County Library M-F, Lunch 11:45 am-12:15 pm

Spring Valley Library M-F, Lunch 2:05 pm-2:35 pm

Enterprise Library M-F, Lunch 1:05 pm-1:35 pm

Black Mountain Rec Center M-F, Lunch 11:00 am-11:13 am

Downtown Parks and Rec M-F, Lunch 11:45 am-1:00 pm

Valley View Parks and Rec M-F, Lunch 12:30 pm-1:00 pm

Whitney Ranch Rec Center M-F, Lunch 1:20 pm-1:50 pm

Silver Springs Rec Center M-F, Lunch 2:10 pm-2:40 pm
Ages 18 and under are welcome to a free meal. Individuals do not have to be YMCA members to participate.
This will be a "grab-and-go" method where staff will meet participants at each facility's front door.
SCHOOL MEAL OPTIONS
Gov. Sisolak announced Sunday that all K-12 schools in Nevada, including public, private and charter, would be closed through April 13.
CCSD:
CCSD will prove breakfast and lunch to students, beginning Monday, March 16. Parents will need to provide their child's school ID or verbally give the student's name, student ID number, school and grade level.
School food distribution pods will be set up at 26 school locations across Southern Nevada from 8 a.m. To 11 a.m. The locations are listed below:
Basic High School

Bennett Elementary School (Laughlin)

Bridger Middle School

Boulder City High School (Boulder City)

Canyon Springs High School

Centennial High School

Chaparral High School

Cheyenne High School

Cimarron-Memorial High School

Clark High School

Del Sol High School

Desert Pines High School

El Dorado High School

Green Valley High School

Hughes Middle School (Mesquite)

Indian Springs High School (Indian Springs)

Las Vegas High School

Laughlin High School (Laughlin)

Lyon Middle School (Overton)

Manch Elementary School

Matt Kelly Elementary School

Mitchell Elementary School

Mojave High School

Paradise Elementary School

Petersen Elementary School

Sandy Valley High School (Sandy Valley)

Shadow Ridge High School

Sierra Vista High School

Silverado High School

Spring Valley High School

Ute Perkins Elementary School (Moapa)

Valley High School

Veterans Tribute Career and Technical Academy

West Preparatory Academy

Whitney Elementary School

Wynn Elementary School
The following charter schools are also providing food:
Democracy Prep

8 to 11 a.m. Beginning Thursday, March 19

Doral Academy (Fire Mesa), lunch Monday through Friday, 11 a.m. To 1 p.m.

Equipo Academy

Futuro Academy 8 to 11 a.m.

Mater Academy of Las Vegas 8 to 11 a.m.

Mountain View Christian School 9 to 11 a.m., beginning Thursday, March 19

Pinecrest Academy lunch, Monday through Friday, 11 a.m. To 1 p.m.

Quest Academy

Signature Prep 10:30 a.m. To noon
Nye County:
Four school meal sites and bus route delivery starting Wednesday, March 18. Depending on the community area, Nye County School District is providing breakfast and lunch using two options for school meals, starting Wednesday, March 18. Click here for information about the different communities and bus routes.
Aloha Kitchen and Bar: Aloha Kitchen and Bar is offering free chicken teriyaki bowls to kids between 2 p.m. And 4 p.m. Through April 3.
Monday: Aloha Kitchen, 2605 S Decatur Blvd
Tuesday: Aloha Kitchen, 8150 S Maryland Pkwy
Wednesday: Aloha Kitchen and Bar, 2605 S Decatur Blvd
Thursday: Aloha Kitchen, Maryland Parkway at UNLV
Friday: Aloha Kitchen, 4466 E Charleston Blvd
Their Facebook post: "Please do not be embarrassed or shy. Just mention to one of our team members this Facebook post and they will be happy to help you. Student must be present."

Griddlecakes / Stacks & Yolks:
Beginning Monday, March 16, the Griddlecakes and Stacks and Yolks locations will offer a breakfast meal for kids Monday through Friday from 11 a.m. To 1 p.m. Those children in need of a meal will receive a kids pancakes, eggs and homefries.
Griddlescakes locations:
6085 S. Fort Apache Rd # 180
9480 S. Eastern Ave #170
6584 N. Decatur Blvd
Stacks and Yolks locations:
3200 N. Jones Blvd
7150 S. Durango Dr #140
Their Facebook post: "We hope this will help eliminate one less worry during these difficult times COVID-19 has brought on our community."
Food programs:
Luthern Social Services of Nevada remains open to the public. The public can pick up from on Tuesdays and Thurdays from 9 a.m. To noon at 4323 Boulder Highway. Lutheran Social Services of Nevada also provides seniors a free daily hot meal through their Senior Meal Program at Reformation Lutheran Church. You can click this link for additional services offered. You do not have to be Lutheran or any other religion to access their services.